Message from the President
Our social environment is fast-changing, like the development of IT technology. Today, electricity is the foundation of lifeline and everything, and the stable supply of electricity is essential.
Almost every year, Japan suffers from disasters such as earthquakes and typhoons, and these provoke widespread blackout and the delay of disaster recovery caused by the disconnect of power supply. Through the sequences of these events, many people must have re-realized the importance of power supply in life.

The power distribution equipment takes an important role for the smooth operation of facilities which provide electricity as many as needed and to places needed. Ever since established in 1956, we are focused on the development and manufacture of power distribution equipment to answer the demands of our customers including utility and railway companies across the country.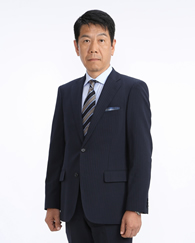 Using our knowledge and professional expertise accumulated over years, we mobilize all power of our group companies and keep challenging to contribute the development and sustainability of enriched society by contributing one of the important social foundation, the stable supply of electricity.
President of Nippon Kouatsu Electric Co. Ltd.
Masaki Nakane